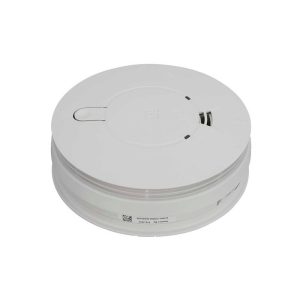 AED

241.50 VAT included
Buy The Best Smoke Detectors Online in Dubai, UAE
Smoke Detection is a critical aspect of fire safety, and our range of products ensures you're well-prepared to detect and respond to potential fire hazards. We offer a variety of cutting-edge solutions to suit different environments and requirements, including Smoke Detectors, Beam Detectors, Duct Detectors, Air Sampling Smoke Detectors, and Explosion-Proof devices.
Smoke Detectors
: Our selection of Smoke Detectors includes advanced technologies designed to detect the presence of smoke in its early stages. It allows for swift fire detection and timely responses. These detectors are essential for residential, commercial, and industrial applications, helping protect lives and property.
Beam Detectors
: Beam Detectors are particularly suited for large open spaces and challenging environments. They use beams of light to detect smoke particles, providing efficient and reliable coverage over expansive areas.
Duct Detectors
: Duct Detectors are specialized devices integrated into HVAC systems to monitor air ducts for smoke. They are essential for preventing the spread of smoke and fire within ventilation systems.
Air Sampling Smoke Detectors
: These detectors use air sampling technology to continuously and actively sample the air for traces of smoke. They are highly sensitive and ideal for early detection in areas where early warning is critical.
Explosion-Proof Detectors
: In hazardous or explosive environments, Explosion-Proof Smoke Detectors are vital. They are designed to operate safely in environments with a risk of flammable gases or dust, ensuring safety and compliance with strict regulations.