Buy the Best Respirator Protection Mask for Ultimate Safety
Fire Supplies is your one-stop shop for the best Respirator protection mask in the UAE. We understand the importance of safety and protection in construction and industrial environments. This is why we offer a wide range of high-quality respirator masks to ensure you have the necessary protection.
Read More
What are the benefits of Respirator protection?
Respirator protection masks provide a range of benefits in various industries, including construction, medical, and many others. Some of the benefits of using respirator protection masks include:
Protection against harmful particles: Respirator protection masks are designed to filter out harmful particles, including dust, smoke, fumes, and other airborne contaminants. This protection is especially important in industries such as construction and manufacturing, where workers are exposed to high levels of these particles.
Improved respiratory health: Respirator protection masks can help prevent respiratory illnesses caused by exposure to airborne particles. For example, medical professionals use respirator masks to protect themselves from infectious diseases and airborne pathogens.
Enhanced safety: Respirator protection masks provide an additional layer of protection against hazardous substances, reducing the risk of injuries and illnesses in the workplace.
Comfort: Modern respirator protection masks are designed to be lightweight, comfortable, and easy to wear for extended periods. This makes them ideal for workers who need to wear masks for long hours.
Compliance with regulations: In many industries, the use of respirator protection masks is mandatory to comply with health and safety regulations. By using respirator masks, companies can ensure that they meet these requirements and avoid penalties or fines.
Top 3 Face Mask Respirators you can Buy
3M – Particulate Respirator 8210: The 3M 8210 N95 Particulate Respirator is one of our best-selling items. Dust, mists, and odours are all protected from by this mask. To provide a snug and comfortable fit, it has a soft nose cushion and an adjustable nose clip. For increased durability, the mask also features a braided headband and a two-strap construction.
3M 6000 Series-M Reusable Full Face Mask Respirator: The 3M 6800 Full Facepiece Reusable Respirator is an additional well-liked choice. This full-face mask is made to work with 3M filters, cartridges and supplied air systems and has a large field of vision. It is constructed of a flexible silicone material that moulds to your face for a snug fit.
3M Ammonia Methylamine Cartridge: The 3M Ammonia Methylamine Cartridge is a flexible and efficient tool for a range of uses, such as manufacturing chemicals, farming, and more. It is intended to be used with bayonet filter holders and 3M Half and Full Facepieces 6000, 7000, and FF-400 Series. For those who frequently work with these chemicals, this cartridge offers dependable protection against ammonia and methylamine and is a crucial piece of safety equipment.
Choose Us
At our company, we understand that safety is the top priority in any workplace. That's why we take great care to stock only the best respirator protection masks from leading brands such as 3M. So why take chances with your safety? Browse our range today and take the first step towards ensuring your safety on the job.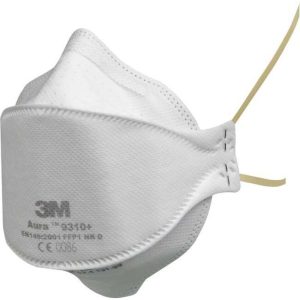 AED

8.40 VAT included