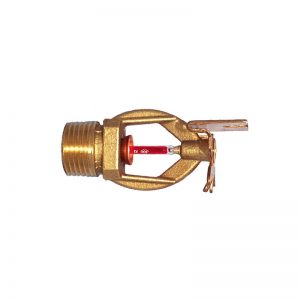 AED

31.50 VAT included
Buy The Best Sprinkler Heads Online in Dubai, UAE
Our range of Sprinkler Heads includes various types designed to suppress fires and protect your premises efficiently. Our selection comprises:
Upright Sprinklers
:
Upright sprinklers are designed to provide effective fire suppression in industrial and commercial settings. They stand upright and discharge water or other fire suppressants in an upward pattern, efficiently covering a wide area.
Pendant and Recessed Pendent Sprinklers
:
Pendent sprinklers are commonly used in commercial and residential applications. They hang from the ceiling and discharge water downward. Recessed pendent sprinklers are designed to blend seamlessly with the ceiling, offering a clean and discreet appearance while providing fire protection.
Concealed Pendent Sprinklers
:
Concealed pendent sprinklers are installed in a way that hides the majority of the sprinkler behind a decorative cover plate. These sprinklers offer fire protection and an aesthetically pleasing appearance, making them a popular choice for various settings.
Horizontal Sidewall Sprinklers
:
Horizontal sidewall sprinklers are installed on walls and discharge water horizontally. They are designed for use in spaces where ceiling-mounted sprinklers are not feasible.
Vertical Sidewall Sprinklers
:
Vertical sidewall sprinklers are installed on vertical surfaces, such as walls. They provide effective fire suppression in spaces with specific layout requirements.
Our Sprinkler Heads are engineered to meet strict safety standards, ensuring your property is well-protected against fires. Whether you need upright sprinklers for industrial facilities, pendent sprinklers for residential use, or concealed pendent sprinklers for an elegant look, our range of sprinkler heads provides dependable fire protection with options that suit various applications. Trust us to deliver top-quality sprinkler heads that enhance safety and fire prevention.