Buy Affordable Emergency Exit Lights In The UAE
Emergency exit lights are essential to any building's fire safety system. They provide a clear and well-lit path for occupants to safely evacuate the building in the event of a fire or other emergency. 
Read More
If you are looking for emergency exit lights in the UAE, then Firesupplies.ae is the perfect place. Our selection includes both battery-powered and AC-powered lights, as well as lights that are suitable for both indoor and outdoor use.
Here are some key features of our emergency exit lights are given below::
Battery Backup: Our emergency exit lights are equipped with a battery backup that allows the lights to remain on even when the power goes out. This is crucial in an emergency when the power supply is interrupted.
Automatic Testing: Many modern emergency exit lights have an automatic testing feature that ensures they work correctly. This can include self-diagnostics, monthly testing, and annual testing.
Durable Construction: Emergency exit lights are designed to withstand harsh environments and resist impact, vibration, and other physical stresses. They are typically made from durable materials like metal or plastic.
Illumination: The illumination of emergency exit lights is measured in candela. Exit lights are required to have at least 90 candelas, and emergency lights must have at least 180 candelas.
One of the main advantages of shopping for emergency exit lights at Firesupplies.ae is the variety of options available. We have a range of models available to choose from, depending on the requirements of your building. This can include models with lighting options like LED, fluorescent, and halogen bulbs and housing materials like metal, plastic, etc.
Another advantage of shopping from us is their customer service. We have a team highly knowledgeable about the products they sell and can help you find the right emergency exit lights for your needs. We also have a reputation for providing prompt and efficient service, which is essential in an emergency.
Above all, Firesupplies.ae is a great place to buy affordable, high-quality emergency exit lights in the UAE. We offer a wide range of options, competitive prices, and great customer service.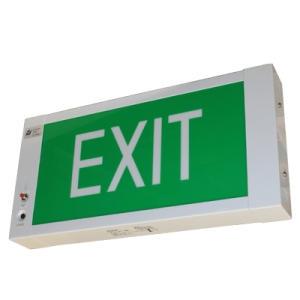 AED

315.00 VAT included