Buy The Best Fire Extinguisher In UAE, Fire Supplies
Why do you need to buy a fire extinguisher? Of course, you never want your house or office to catch fire, but in case it does, you'll wish to be around to fight the fire. The best method to keep yourself safe is by making sure everyone else around you is safe. The last thing anyone needs is to lose their loved ones because of something as trivial as a lack of common sense or an overloaded kitchen appliance. So, if you're looking for the best fire extinguisher in Dubai and Abu Dhabi, you've come to the right place.
Read More
Benefits of having a Fire Extinguisher
Helps reduce the risk of fire.

Reduces the time it takes to put out a fire.

Provides for faster evacuation if a fire occurs at business premises.

Prevents injuries and damage to property caused by smoke or toxic gasses released when a fire breaks out.

If you own a business, having a fire extinguisher can help save money on insurance claims by reducing the damages caused during fires at your premises.
What should you Think about Before Buying a fire extinguisher?
When choosing a fire extinguisher, you need to consider the type of fire it will be used for, the size of the extinguisher, and the environment it will use. Extinguishers are for general fires, while type B extinguishers are for flammable liquids. The size of the extinguisher is essential because you need one that is big enough to put out the fire but not so big that it is difficult to handle. The environment the extinguisher will use is also essential to consider. If it is used in a kitchen, for example, you need to make sure it is rated for use with grease fires.
Above all, we offer a wide selection of fire extinguishers to choose from, all at competitive prices. Plus, we offer free shipping on orders over AED 1000. So what are you waiting for? Order your fire extinguisher today!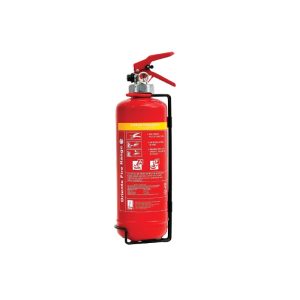 AED

168.00 VAT included