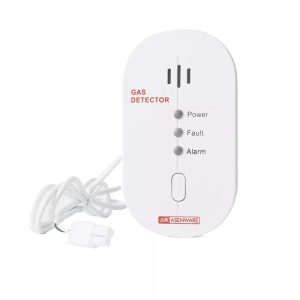 AED

472.50 VAT included
By Detection Types
Explore our extensive range of fire safety solutions categorized by Detection Type. We offer a variety of options tailored to specific needs and environments, including Flame Detectors, Conventional Detectors, Addressable Detectors, Standalone Detectors, Mains Powered Detectors, Intrinsically Safe Detectors, Wireless Detectors, and Detectors designed for Construction sites.
Flame Detectors
:
Flame detectors are specialized sensors designed to detect the presence of flames, making them ideal for applications where rapid flame detection is crucial, such as industrial settings.
Conventional Detectors
:
Conventional detectors are reliable and cost-effective solutions for building fire detection. They work by dividing an area into zones, providing a general location of the fire.
Addressable Detectors
:
Addressable detectors are intelligent devices communicating directly with a control panel. It provides specific information about the location and status of the detector. They are suitable for larger or complex buildings.
Standalone Detectors
:
Standalone detectors are self-contained units, often powered by batteries. They are easy to install and maintain, making them a practical choice for homes and small businesses.
Mains-Powered Detectors
:
Mains-powered detectors are hardwired into the electrical system of a building, ensuring continuous power and reliable operation. They are commonly used in commercial and industrial settings.
Intrinsically Safe Detectors
:
In hazardous environments where explosive gases are present, intrinsically safe detectors are designed to prevent sparks or arcs that could ignite the gases.
Wireless Detectors:
Wireless detectors provide flexibility and easy installation, making them an excellent choice for retrofitting buildings or locations where wiring is impractical.
Detectors during Construction
:
Detectors designed for construction sites offer temporary fire detection solutions to safeguard the site during the building process, reducing fire risks and ensuring worker safety.
Trust us to deliver the best detection type that matches your requirements, enhancing safety and peace of mind.