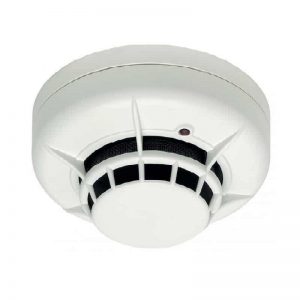 AED

98.70 –

AED

219.45 VAT included
Buy the Best Smoke Detector in the UAE
In this modern age, fires happen all too often. So if you live in an apartment, a villa, or a flat in Dubai, you will want a smoke detector for your home. While keeping track of every fire can be challenging, you can be assured that Fire Supplies has the best smoke detector in the UAE. 
What is the Smoke Detector?
A smoke detector is a device for spotting smoke in a specific location. Smoke detectors are usually installed in homes and businesses to protect against fire dangers. Smoke detectors work by using sensors to detect the presence of smoke in the air. When smoke is detected, the smoke detector will sound an alarm to warn people about the potential danger.
Smoke Detector Basic Features
Audible alarm - It consists of an audible alarm horn activated when a fire occurs. The horn produces a loud sound that can hear from a considerable distance.
Visible alarm - Some smoke detectors use LEDs to indicate a fire in the area. These smoke detectors are often installed in hallways and stairwells to alert people to an emergency.
Alarm output - These smoke detectors have an output that can be connected to an external annunciator or control unit, such as a siren or mobile phone app. This will send out an alert when a fire occurs so that people will know what is happening without looking for the smoke detector itself.
What are the Reasons to Buy our Smoke Detectors?
Here are just some of the reasons why you should order from us:
- We offer a wide range of smoke detectors to choose from, which are reliable and effective. 
- Our smoke detectors are battery-operated, so they can be placed anywhere in your home or office. 
- We offer competitive prices on all of our smoke detectors, so you can receive the best value for your money.
- We have a team of experts who can help you choose the right smoke detector for your needs.
So, if you are looking for a quality smoke detector at an affordable price, then be sure to order from Firesupplies.ae today!
Why Fire Supplies is the Top Smoke Detector Company in UAE
As a leading provider of fire safety products in UAE,
Firesupplies.ae
is the top choice for smoke detectors. We understand the importance of early fire detection and strive to provide our customers with high-quality smoke detectors that are reliable and easy to use.
Our smoke detectors are manufactured by some of the most reputable brands in the industry and come with a range of features to suit different needs and preferences. From basic smoke detectors to advanced models with wireless connectivity and multiple sensors, we have everything you need to protect your property from fire.
In addition to our quality products, we also provide excellent customer service and technical support. Our team of experts can help you choose the right smoke detector for your property and guide you through the installation process.
Trust
Firesupplies.ae
for all your smoke detector needs and experience the peace of mind that comes with knowing you're protected by the best.
What are the Advantages of Best Heat Detectors?
There are several unique advantages of the best heat detectors that make them an important tool for fire safety.
Fast response time: Best heat detectors respond quickly to a sudden rise in temperature, making them ideal for detecting fires in areas with high-risk potentials, such as kitchens and boiler rooms.
Reliable operation: Heat detectors are less prone to false alarms compared to smoke detectors, which can be triggered by dust, steam, or cooking fumes. Heat detectors rely solely on temperature changes, making them highly reliable in detecting fires.
Low maintenance: Best heat detectors require minimal maintenance and have a long lifespan, making them a cost-effective option for businesses and homeowners alike.
Wide temperature range: Heat detectors can operate in a wide temperature range, making them suitable for harsh environments where other types of fire detectors may not work correctly.
Compatibility with other fire detection systems: Heat detectors can be easily integrated with other fire detection systems, such as smoke detectors and sprinklers, providing comprehensive protection against fires.
No power supply required: Some heat detectors operate without requiring a power supply, making them ideal for locations where electricity is not available or reliable.