Buy Best Disposable gloves in the UAE – Fire Supplies
Disposable gloves are essential to maintaining hygiene and safety in various industries, including food service, healthcare, and industrial settings. They provide a barrier between the user's hands and potentially harmful contaminants, such as bacteria, viruses, and chemicals. In addition, when you use gloves, you can prevent the transfer of germs and bacteria from one surface to another.
Read More
Fire supplies is the top-selling and trusted shop for fire extinguishers, fire blankets, first aid kits, personal protective equipment, and all related fire safety products for sale in the UAE. In addition, our gloves are made from high-quality materials designed to be comfortable, durable, and effective at protecting your hands.
What Types of Disposable Gloves are Available in Our Store?
There are a variety of disposable gloves available in our store, made from different materials and designed for different purposes. 
Vinyl gloves

are the most economical choice and are often used in the food service industry. Vinyl gloves are an excellent alternative to latex gloves if you have a latex allergy. They are powder-free and disposable, so you don't have to worry about contaminating them. 

Nitrile gloves

are made from synthetic rubber resistant to oils, chemicals, and other hazardous materials, so you can feel confident that you're protected no matter what you're working with. Moreover, these make them a good choice for medical and industrial applications. 

Latex gloves

are abrasion resistant and non-toxic, making them suitable for general maintenance and cleaning. They have a roll-edged cuff, which makes them light and comfortable to wear. They are also chemical resistant, making them ideal for general industrial applications.
Why Choose Us?
All our disposable gloves are made from high-quality materials, ensuring maximum protection for the users. You can also find detailed information about each product on our website, including images, product descriptions, and sizes available. We also ensure that we have a wide range of quantities available to meet the needs of both small and large businesses. Plus, our prices are unbeatable. So what are you waiting for? Order our disposable gloves today!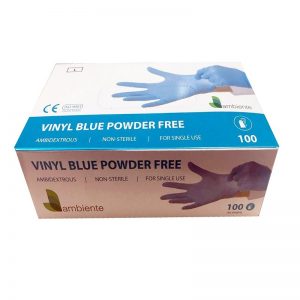 VAT included